Implants
Implants along with the restorations built on top of them are the permanent solution to replace one or more missing teeth.  Unlike dentures and bridges, they do not require any support from surrounding teeth since their foundation (a metal fixture) is "implanted" directly into the underlying bone. This fixture serves as an artificial root.
Dr. Zane teams with an oral surgeon or periodontist to place the implant.  While most implants are titanium, Dr. Zane and his team are pioneers in the placement of ceramic implants.  Results of ceramic implants have indicated that they may adhere better to surrounding soft tissue, and even bone.  This can sometimes lead to a better esthetic result.  Furthermore, some have deemed ceramic as a more biocompatible material than titanium.
Once an implant is placed in the bone, it must be restored with an implant crown, or bridge.  Dr. Zane works closely with the dental laboratory to ensure that the final restoration matches your existing smile and functions like natural teeth.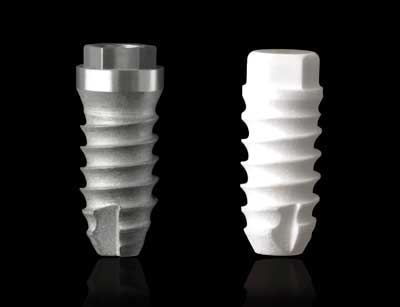 Should I get an implant or a bridge?
Because healthy, adjacent tooth structure can be left in tact, most dentists consider implants the preferred way to treat missing teeth.  However there are a few indications, where a bridge may be a better alternative.  Because implants are placed directly into the jaw bone,  patients with light bone density and narrow bone thickness may not be good candidates for implants.  Patients who smoke, have a condition that inhibit the body's ability to heal, or are taking biophosphate medications also present higher risk of implant failure.  For most patients, however, implants present the ideal the solution to restore a natural, radiant smile.